What has the biggest impact when advertising a business? The logo design!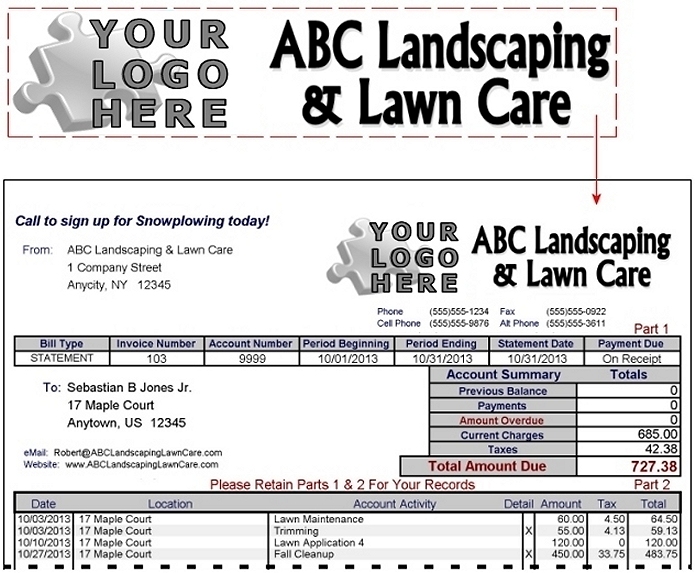 Your logo is the first thing people see. It sets up the character behind your business. Professionalism, friendliness, even humor can be picked up in lawn care logo design.
Your Lawn Care Logo Design Has Style
Whether your logo design is Classic, Vintage, Modern, Handcrafted, Fun or Quirky, you want to keep it simple! Mind your target audience. What do you want their first impression of your brand's personality to be? Do you have your design ready? Take a look at our stock designs.
Fitting Your Logo Design to Scale
Don't worry about image types or dimensions! We'll get the logo image you upload to fit exactly into the right specifications required by our software.



Pay attention to color! Color can have psychological meaning that communicates mood in a subconscious way.
Red-exciting
Orange-energetic
Yellow-friendly
Green-natural
Blue-mature
Purple-luxurious
Brown-masculine
White-clean
Grey-serious
Font Choice in Your Lawn Care Logo Design
Your font should compliment the logo design and overall style.
Serif fonts, like Times New Roman, give the text an old fashioned mood. This works nicely with vintage, elegant, or classic design styles. Sans Serif fonts work well for clean, modern styles to convey sleek sophistication. Script fonts are elegant and more individualistic and relaxed.
You can design a logo font by combining elements of different font types to make your logo unique.




Save time with the best landscaping service contract software for your lawn care, landscaping, landscape maintenance, irrigation, lawn care, hardscaping, chemical application, waterscaping, snow plowing, and outdoor service business.